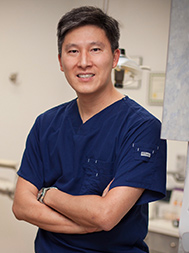 Dr. Calvin Chan received his Bachelor of Pharmaceutical Sciences degree in 1997 and Doctor of Dental Medicine degree from UBC in 2001. Since graduation, Dr. Chan has been taken numerous professional advancement courses to ensure that his knowledge and skills in dentistry are at the cutting-edge. His goal is to provide dental care with a high standard of excellence and to deliver it in a manner that will surpass your expectations. Over the last fifteen years, Dr. Chan has established a reputation for excellence in both dentistry and patient-care. He has patients coming from all over the lower mainland and Fraser Valley. He is known to be gentle and caring. Furthermore, Dr. Chan has been a clinical instructor at the Faculty of Dentistry in UBC where he teaches the graduating dental students. He enjoys sharing his knowledge with his students. He also enjoys doing volunteer dentistry to the underprivileged people in the third world countries.
Dr. Chan loves dentistry. He loves to help patients with different dental needs by providing a wide spectrum of dental services. He believes that nothing projects success and confidence like a great smile does.
Dr. Chan is dedicated to improve patient's smile through smile design and cosmetic dentistry. He is highly skilled in performing different aspects of dentistry- from basic restorative dentistry to dental implant surgery. In addition to providing traditional orthodontic treatment (braces), Dr. Chan is also a certified Preferred Invisalign provider. Married with two daughters, Dr. Chan spends most of his leisure time with his family. He enjoys gardening. He also has a passion for travelling.